All news
July 10, 2022
ICOM Prague 2022 – MPR Program
ICOM-MPR MEETINGS
22 August, 16.00 – 17.30 (Block A)
Chamber Hall, Congress Center
Hybrid format
Moderator/Chair: Deborah Ziska, United States
THE POWER TO INSPIRE HOPE
Keynote Speaker:
Ihor Poshyvailo, Vice-Chairman of ICOM-DRMC,
co-founder of the Heritage Emergency Response Initiative (HERI)
Director General of the National Memorial and the Revolution of Dignity Museum (Maidan Museum)
At a time of overwhelming challenges, distractions, and dissonance, present an example(s) of how your museum inspires hope that builds morale, promotes resilience, and/or rethinking of values, identity, or ethics among individuals, groups, or communities through any of the following:
• Creative, positive, and/or timely messaging, branding, and/or campaigns
• Stories, narratives
• Images, video, graphics, music
• Social media
• New technology
• Programming
Presenters:
Katherine Doak-Keszler, United States: YOU are a historical figure living now: How Civic Season is finding hope for our future in our past
Cristina Chiaiso, Italy: The colour of Hope – raising awareness about the symbolic and identity value of our cultural heritage
Rosangela Nuto, Brazil: Bringing museums and communities closer: 20 years of the Brazilian National Museum Week
Martin Djupdraet, Denmark: Identity, hope and the values of the museum
Ya-Ping Wei, Taiwan: The Power to Inspire Hope: How Museums Can Use Unity for Branding
Anna Dentoni, Italy: Keeping in touch with Patrons
23 August, 14.30 – 16.00 (Block B)
Small Theatre, Congress Center
Hybrid format
Moderator/Chair: Klaus Staubermann, Matthias Henkel, Michael H. Faber
THE COVID19 CHALLENGE
Museums and their digital engagement in times of crises. Results of the Solidarity Project of AVICOM, MPR and ICOM Germany
AVICOM and MPR, supported by ICOM Germany, have worked out, in dialogue with leading representatives of museums, the status quo of their digital/hybrid presence. MPR has realized narrative interviews with representatives all over the world. The results are highly interesting interview films. AVICOM has analyzed the digital presence (websites, social media) of these and other museums and their digital strategies in the pandemic period and evaluated them with a view to innovation, inclusion and sustainability. The joint session reports about the project results, shows extracts of the narrative movies, presents best practice examples and invites 5-minute contributions and a wider discussion.

23 August, 16.30 – 18.00 (Block C)
Small Theatre, Congress Center
Hybrid format
THE POWER TO ENGAGE IN CONVERSATION
Moderator/Chair: Anastassia Belessioti, Matthias Henkel
Keynote Speaker: Alexandra Kusá, Director, Slovak National Gallery, Slovakia
Share how your museum deals with tough topics, polarization, and/or disinformation by engaging audiences in conversation and encouraging critical thinking, through any of the following:
• Transparent/ongoing dialogue promoting diversity, equity, accessibility, inclusivity, and/or sustainability
• Giving voice to non-traditional and/or vulnerable members of your community in a safe and welcoming environment
• Identifying emerging community leaders, influencers, and networks
• Market research
• Innovative platforms or formats
Presenters:
Xinru Peng, China: How to improve people's mutual understanding to promote social inclusion via museum exhibitions: empirical evidence from visitor research of Xuhui Art Museum in China
Yrška Purg, Slovenia: Touching the untouched stories: museum informants in the role of exhibition co-creators and ambassadors
Anastassia Belessioti, Italy: The power of innovative platforms and technology to help meet Museums' 'Visitors needs' and how are they a tool to serve, guide, engage and comfort the Museums' audience
Uula Neitola, Finland: Talking to the Unkown – Anonymous Social Media platform as a tool of Communications of Museums
Bin Guo, United Kingdom: It's okay to be a little different' – young children and their families' interaction in an anthropological museum in London
Ke-Yu Liu, Taiwan: Stepping into the Marketplace: Interact with Visitors at Museum's Cultural Products Booth in Local Marketplace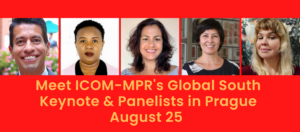 25 August – Thursday
All-day, Off-site meeting
(Registration required by email: icom2022registration@guarant.cz)
Kampus Hybernská/Campus Hybernská
Address: Hybernská 4, Praha
Public transport: metro line B – Náměstí Republiky station
All-day, Off-site meeting (Registration required by email: icom2022registration@guarant.cz)
9:00 – 18:00
On-site (Videotaped)
Moderator/Chair: Deborah Ziska, Vice-President, ICOM-MPR, United States
THE POWER TO TAKE ACTION
Communities face environmental crises, pandemics, violence, and/or lack access to basic needs, civil rights, education, or economic opportunities. Tell us how marketing, public relations, membership, and/or fundraising enable(s) your museum to do any of the following:
Respond to United Nations Sustainable Development Goals
Turn ideas into effective community relations and actions
Collaborate with new partners to engage in meaningful activism
Schedule of the Day:
9:00
Arrival and Registration
All-day coffee/tea/water/snacks
9:30-10:00
Welcoming Remarks –
Marcel Kraus, Director, University Project HYB4CITY
Deborah Ziska, Vice President, ICOM-MPR
10:00-11:30
Introduce Keynote Speaker
Lucimara Letelier, Board Member, ICOM-MPR, Brazil
Keynote Presentation
Taking Action in a Post-COVID World
Marilia Bonas, Director, Museu da Língua Portuguesa, São Paulo, Brazil
Panel, followed by Q&A
Taking Action in a Post-COVID World: Voices from the Global South
Moderator: Lucimara Letelier, ICOM-Brazil
Panelists:
Marilia Bonas, Director, Portuguese Language Museum, São Paulo, Brazil
Linda Apiyo Mboya, President, ICOM-Kenya
Renata Motta, President, ICOM Brazil
William Alejandro Gamboa Sierra, President, ICOM Colombia
11:30-12:30
Presentations: The Power of Museums to Take Action
Moderator: Yu-Chien Chang, Board Member, ICOM-MPR, Taiwan
Presenters:
Eunice Báez, Costa Rica: Museums para llevar: education, audiovisual creativity and museums in the context of the pandemic
Elka Weinstein, Canada: Human Rights and the destruction of cultural heritage: Canadian- Ukrainian solidarity in a time of crisis
Diana Meyen, Germany: The museum as a stage for the oceans
Suresh Man Lakhe, Nepal: The role of museums in promoting Intangible Cultural Heritage
Gertrud Latif Knudson, Denmark: Corporate Communication for museums as agents of change

12:30-13:30 Lunch break (Campus Hybernská) – Full lunch provided free of charge
13:30-14:30
Presentations: The Power of Museums to Take Action
Moderator: Yu-Chien Chang, ICOM-MPR, Taiwan
Presenters:
Narangoo Munkhdelger, ICOM Mongolia: Museum of Nomadic lifestyle
Daniel Morena, Brazil: You have no idea what to do with NFTs, do you?
Natia Khuluzauri, Georgia: Making Science Reachable – the Biodiversity Map of the South Caucasus
Abeer El Gohary, Egypt: Museum Branding and its impact on Sustainable Development : Case study of Grand Egyptian Museum
Luis Marcelo Mendes, Brazil, presents results of ICOM-MPR and C_ltivia Survey: Is your museum ready for a new definition?

14:30-16:30
Manifesto Activity
Led by ICOM-MPR Board Members Cecilia Martin, United Kingdom, and Lucimara Letelier, Brazil
The ICOM-MPR Manifesto is a map to turn beliefs, inspiration, and hope identified during the conference into action. Together, we'll work in groups to define the actions we want to take and co-create the manifesto as a tool for museums and museum professionals to manifest their power to take action.
16:30-16:45
MPR Young Member Travel Grantees' Remarks
Edvaldo Xavier de Mendonça, Brazil
Narangoo Munkhdelger, Mongolia
Samar Saeed, Egypt
Gregory Docteur, Haiti
16:45-18:00
Closing Remarks & ICOM-MPR Annual Business Meeting
Matthias Henkel, President, ICOM-MPR (ICOM-Germany)