Conference Information (ICOM MPR 2020 Challenge)
Open Call
Members of ICOM-MPR…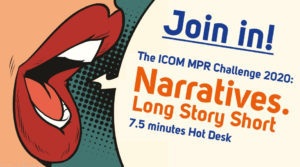 Join the ICOM-MPR Digital Interview Challenge 2020:
7.5-Minute Hot Desk on the topic:
NARRATIVE – LONG STORY SHORT
The International Committee for Museum Marketing & Public Relations of ICOM cancelled its 2020 conference due to the continuing worldwide pandemic. However, we're not going to stop talking about important issues and trends. That is why we developed a new conference format for this year:
The ICOM MPR Challenge 2020: 7.5-Minute Hot Desk NARRATIVE – LONG STORY SHORT
All members of ICOM-MPR are invited to discuss the topic "Narratives – Long Story Short" with an expert of their choice.
THE IDEA
We live in different countries
Our lives happen in different time zones
We work in different types of museums
We have a spectrum of perspectives and practices for narrative communication, also known as storytelling
But we share two things: We communicate in cyberspace and within 7.5 minutes we can cook a hard-boiled egg for breakfast!
WHAT DO WE ACHIEVE?
All ICOM-MPR members have the opportunity to participate
We will get a global and polyphonic array of statements, visions, and dreams about museum narratives.
CONDITIONS OF PARTICIPATION
To participate in the challenge, the interviewer (host) must be a member of ICOM MPR. The expert, however, does not have to be a member of ICOM MPR.
The interviews can be recorded on ZOOM or a similar virtual meeting site, or on your mobile phone (while maintaining social distancing).
The interview must only be recorded by the interviewer (host) host) themselves. ICOM MPR does not provide technical support.
The final video – only *mp4 or *mov is accepted – should not be longer than 7.5 minutes. It may be shorter in length.
The experts – interviewed by the hosts – must agree to the publication of the interview via social media.
The final video should be sent via WeTransfer to: 2020ICOMMPR[@]gmail.com
with a short CV from of less than 300 characters of the host/member of ICOM MPR with ICOM ID Number
and with a short CV of less than 300 characters of the expert who was interviewed.
All interviews should be done in English.
Only interviews that meet these conditions are eligible for the Challenge.
REVIEW
The organizing committee is going to review all interviews if they fit:
– the topic (see below)
– the conditions
– the standards of ICOM
PUBLICATION and RUNNING TIME OF THE CALL
The Challenge runs from 25th June to 25th October 2020.
The interviews that successfully pass the review process will be published – as soon as possible – on the Facebook account of ICOM MPR together with brief bios of the host and the expert. They will also be posted on ICOM-MPR's upcoming new YouTube account.
the conceptional background of the interviews
NARRATIVES – LONG STORY SHORT
In the Digital Age, when people are overwhelmed by data and information, museums are returning to the ancient art of storytelling to engage and inspire their audiences. Museums, which fundamentally preserve and interpret our history and environment, are uniquely suited to utilize narrative communication — or the process of storytelling — to offer transformative experiences through a variety of means, including live interpretation, multimedia on digital platforms, and scenographic design of narrative spaces.
The topic of all interviews – Narratives: Long Story Short – may be explained as a sequence of key terms:
.. stands for a meaningful narrative that influences the way we perceive our environment and our history.
.. stands for the act of storytelling through a variety of means for a range of purposes across museum departments and operations.
Long /Short… stands for the condensed and descriptive representations of complex and historical contexts in a museum. Ultimately, an exhibition may be created with the means of scenography as a walk-through of argumentation, or a systematic process of reasoning.
While museums have long claimed sovereignty in the interpretation of exhibited contexts, today they also embrace a reciprocal dialogue with their visitors and communities using a vast array of tools, techniques, and methodologies.
This challenge – Narratives: Long Story Short – responds to these exciting developments that place new demands on museum communications.
THE FOCUS
Interviews may focus on a particular example or be an enlightening discussion of one of these subtopics. You may think of others:
Archaeology of Narratives and Storytelling
Narratives and Press
Narratives and Social Media
Narratives and Education / Experience
Narratives and Curating
Narratives and Space
Narratives and Social Change
Narratives and Earth Regeneration
Narratives and Climate Change
Narratives and Community
Narratives and Indigenous Heritage
Let's face this ICOM MPR challenge 2020
Find an expert!
Record a 7.5 minutes Hot Desk Talk on NARRATIVES on ZOOM
Stay tuned: Examples of interviews that might inspire you will be posted on ICOM-MPR's Facebook page throughout the summer!
ICOM-MPR Board Members
June 18, 2020
Contact:
Matthias Henkel PhD
Chair ICOM-MPR
for sending videos and CV via Wetransfer please use only: 2020ICOMMPR[@]gmail.com
for communication please use only: icom[@] matthiashenkel.org